Colares, Lisbon Coast's Best Kept Secret
Just a few kilometres west of the world-famous town of Sintra with its crowds of tourists spending a sightseeing day away from Lisbon, you will find a beautiful and authentic landscape with picturesque villages, stunning beaches and magic rain forests. Miraculously undiscovered, Colares will delight you.
Besides being a favourite summer destination for Lisboans, lucky enough to own a summer house there, it is an area almost exclusively inhabited by locals with the exception of surfers that have discovered its ideal conditions to practice their sport.
Spreading along the coast north of the Sintra mountains it is not just the magnificent landscape and views that will fascinate you, but the endless things you can do. From just lying in the sand, watching the sundown from one of the trendy spots on the boardwalk, eating fish and seafood at a restaurant right on the beach to hour long walks along magic trails through misty forests.
The villages and routes near Colares, Sintra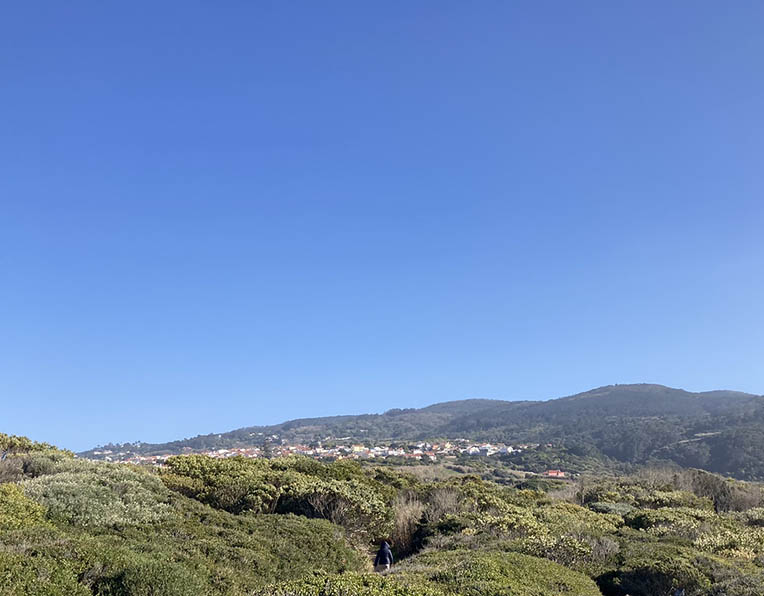 Almoçageme
The village of Almoçageme, nestled in the foot hills of the Sintra mountains overlooking the Atlantic Ocean is a bit of a local commercial centre with a week-end market and yearly festivities. In case you are staying in a self-catering accommodation, the best grocery shop is called Dias just in front of the fire department. There is an excellent restaurant on Praia da Adraga, but as it has become more famous the prices have risen quite a lot.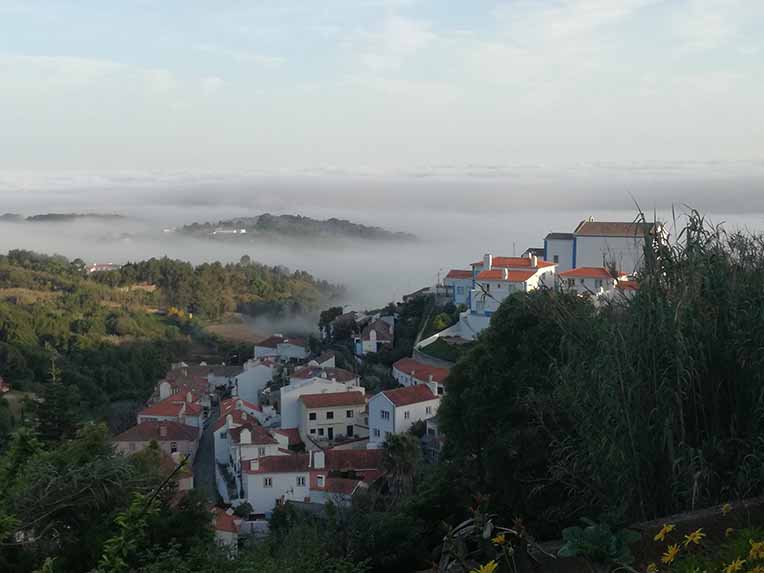 Penedo
One of the nicest short drives I know in Portugal is from the hamlet of Pé da Serra through Penedo and from there downhill towards the historic part of Colares.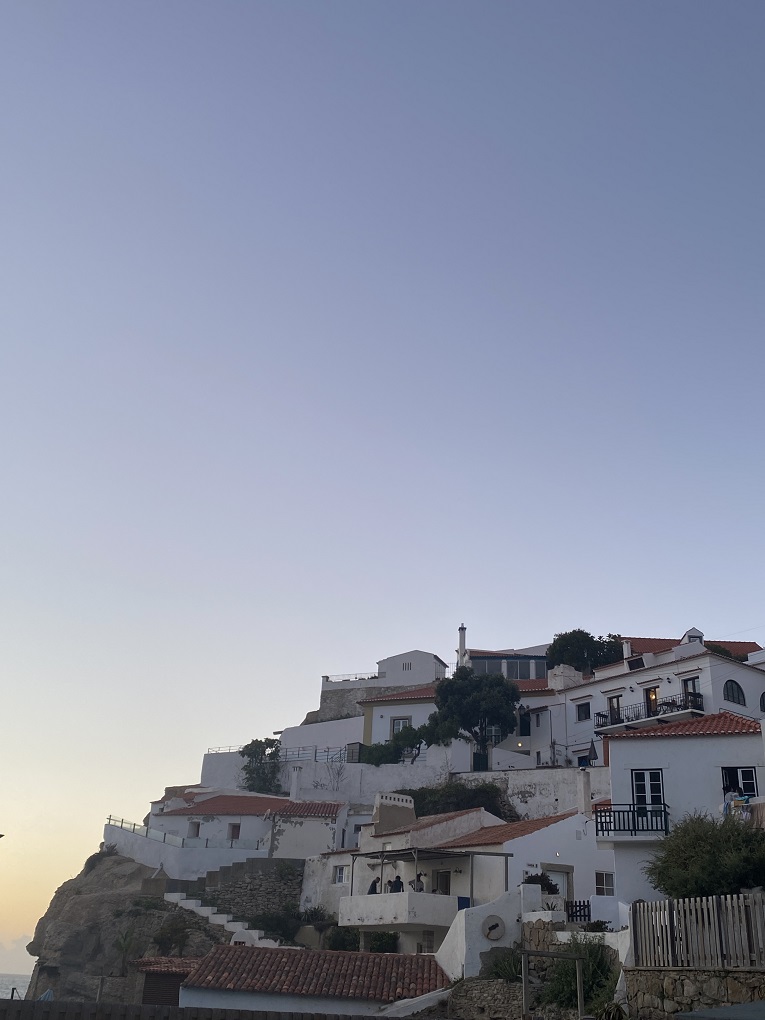 Azenhas do Mar
Azenhas do Mar is featured in almost all catalogs and tourist books about Portugal as it is something truly special. The funny thing is that you do not see that many tourists there as most don't know where it actually is.
The beaches near Colares
Praia da Adraga is probably the most special beach in the area, nestled at the end of a picturesque valley. It does have two small downsides: in summer it is difficult to park and the ocean is quite dangerous so please follow the life guards' advices.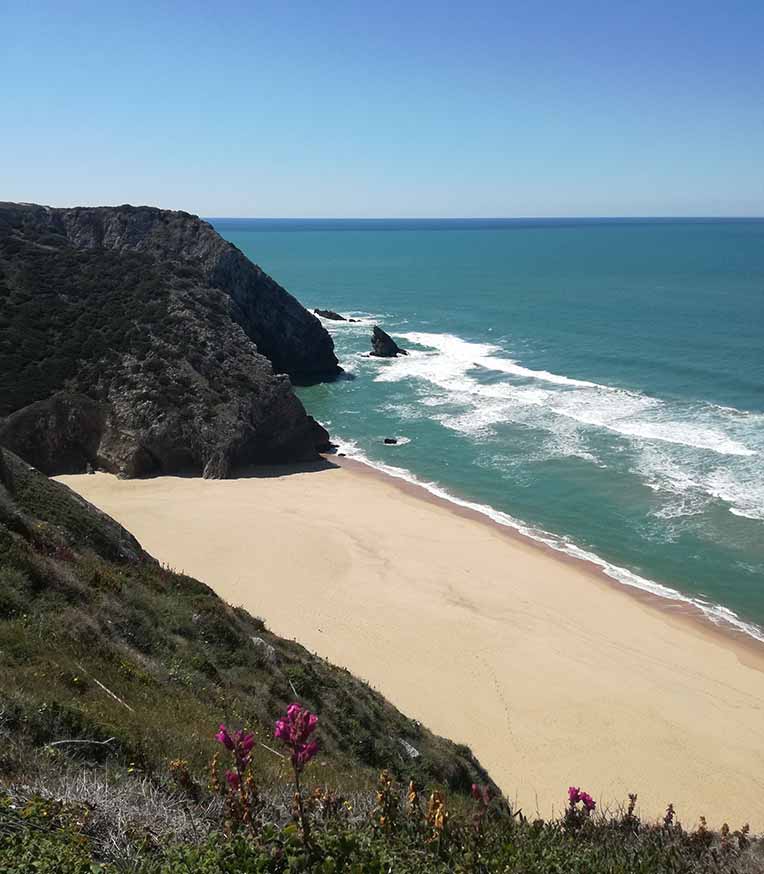 Praia da Adraga
Praia Grande, as the name says the biggest beach, looks a bit uninviting at first glance with its large hotel Arribas, built in the seventies, and two other unsightly buildings. If you drive all the way to the end though it turns into a quite special place. The beach is wide and has golden sand, there are numerous beach bars and the "Bar do Fundo" restaurant has a fantastic terrace where you can enjoy a wonderful lunch or aperitif at the end of a day on the beach. For surfers it is one of the best spots around. Parking is not easy, but there is a private parking area at the last round-about (entrance next to the Galé restaurant).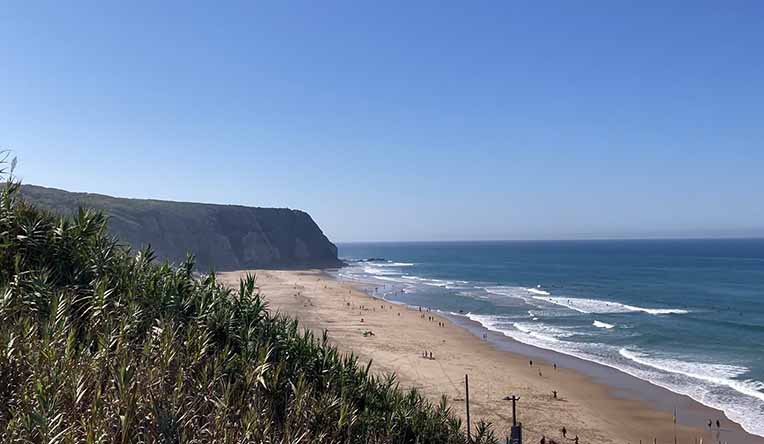 Praia Grande
The Paria Pequena is a nice uncrowded beach just north of Praia Grande
On Easter Friday each year the local population heads for the Praia do Magoito to harvest "mexilhões" (mussels) and cook them in the nearby pine forests. Coal fire smoke and wonderful seafood aromas linger between the trees all day.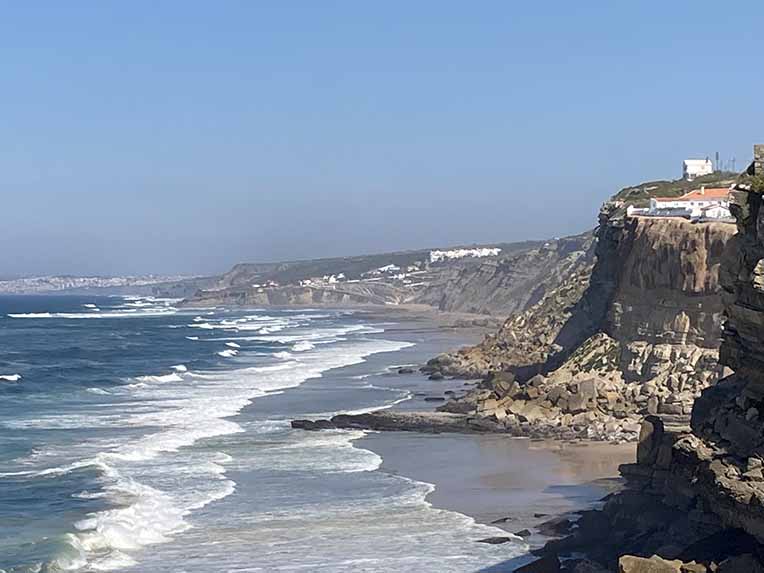 Praia de Magoito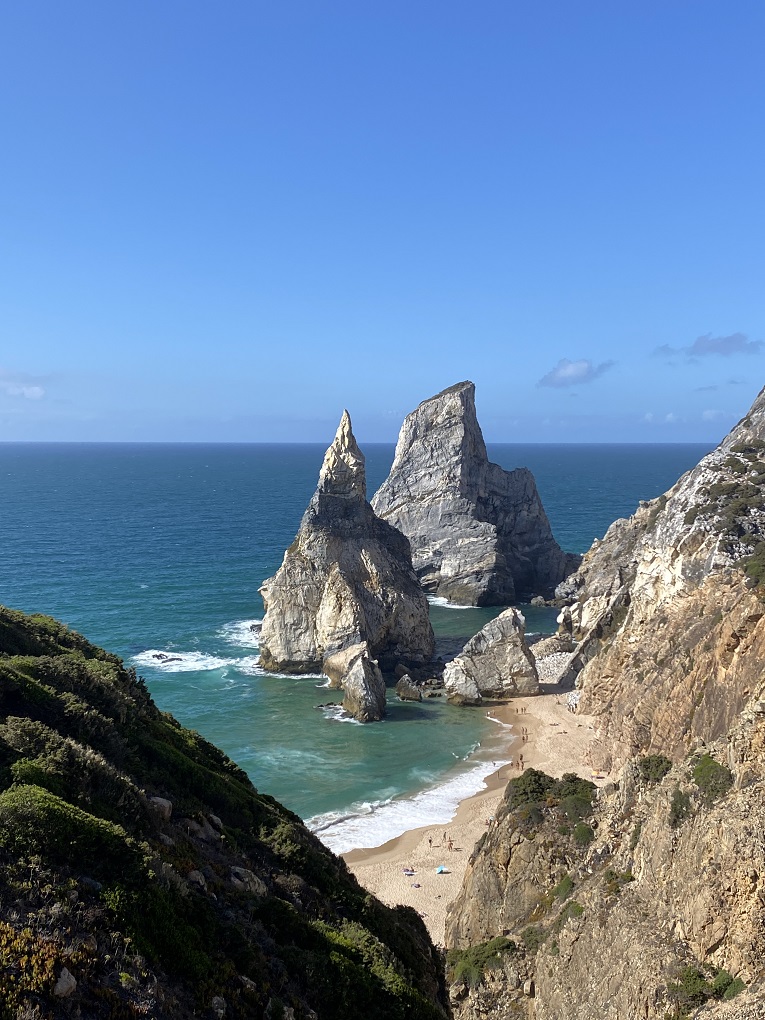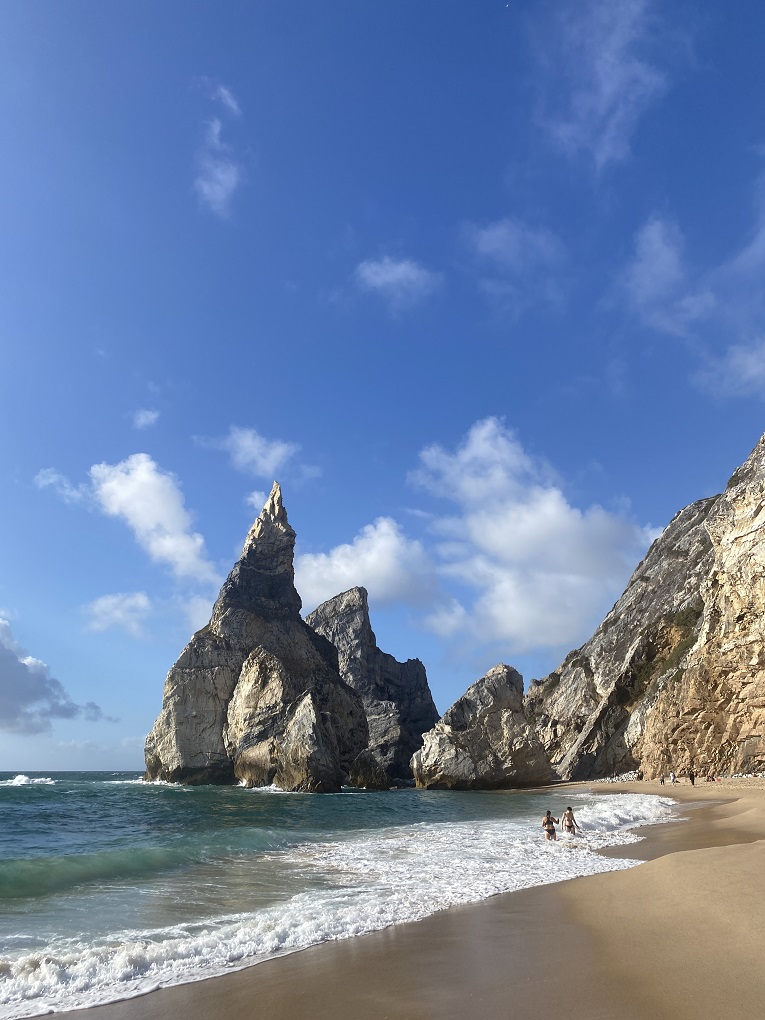 Praia da Ursa
There are many more beaches such as Praia das Maças, Praia das Azenhas and Praia de São Julião.
The restaurants in Colares, Sintra
Azenhas do Mar
At lunchtime or even better early dinner we recommend a table on the terrace of the "Água e Sal", a moderately priced restaurant with good fish and seafood dishes. Although the terrace looks onto the parking area, the views over the village and the ocean are beautiful. Just across is a little kiosk with a great view to have an aperitif. Down right on the beach is a beach bar where you can chill out at the end of the day. The "Azenhas do Mar" restaurant has excellent fish and seafood, although at a higher price.

Água e Sal
Downright on the beach is a beach bar where you can chill out at the end of the day. The "Azenhas do Mar" restaurant has excellent fish and seafood, although at a higher price.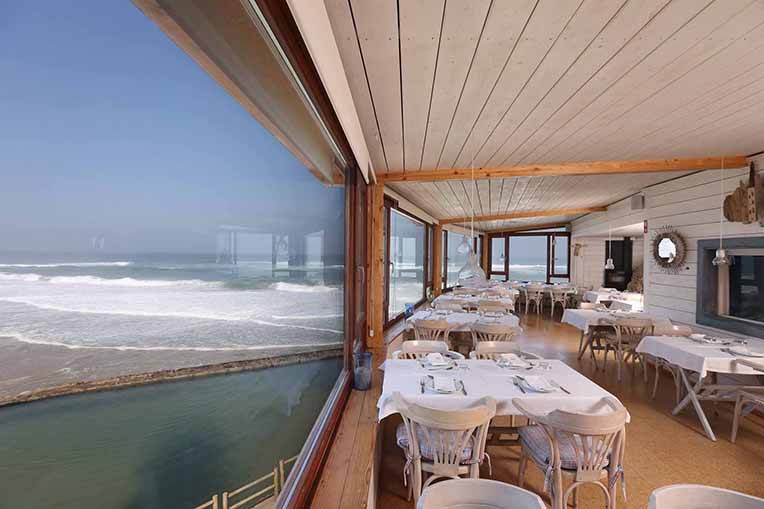 Restaurante Azenhas do Mar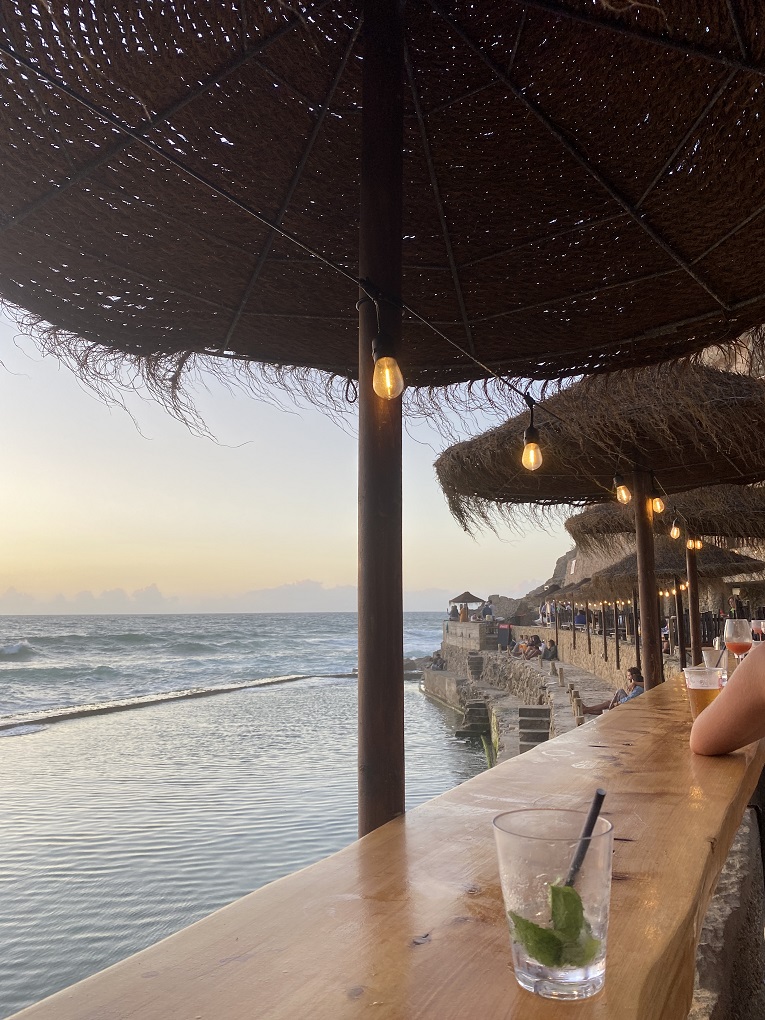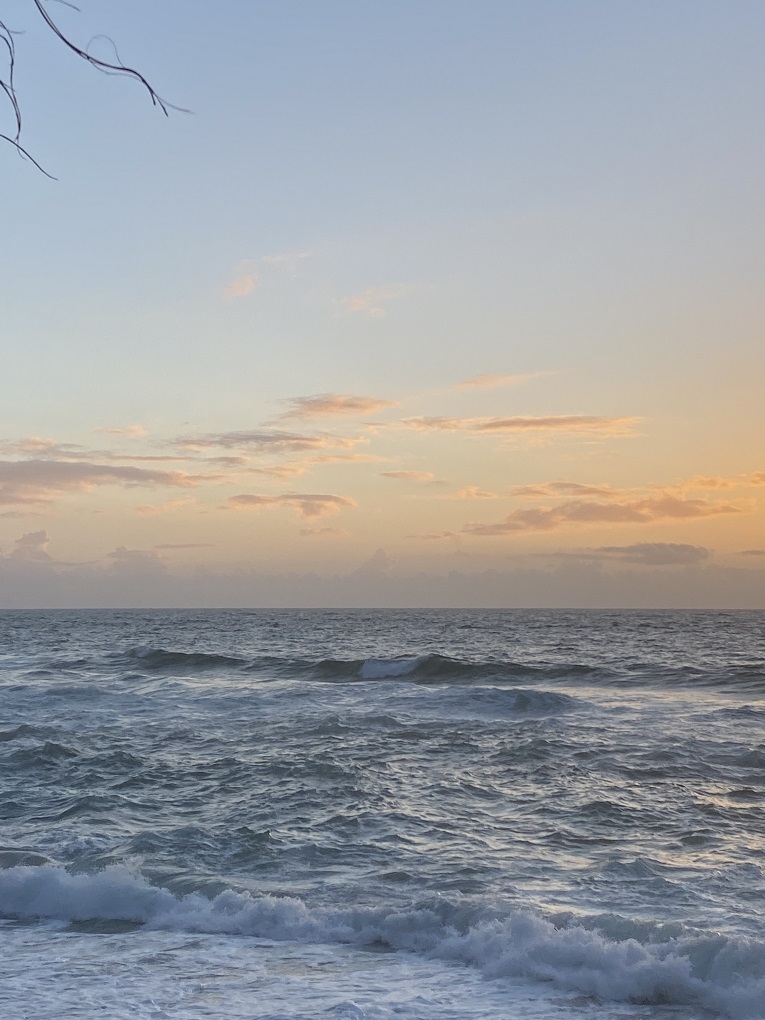 The bar right at the natural pool of Praia das Azenhas do Mar is the perfect place for a sundown drink while watching the waves crash into the cliffs.
Praia das Maças
Most sea-food restaurants are in this simple little beach resort.
Our favourite is the "Restaurante Búzios". It is surely the best sea food and fish restaurant in the area. It is not cheap, but certainly worth the price. Try the "Arroz de Marisco", the typical delicious half liquid seafood rice, the "Ameijoas á Bulhão Pato"(clams) or the two types of crab "Santola" or "Sapateira". They have a hidden parking lot at the back of the restaurant that comes in handy in summer.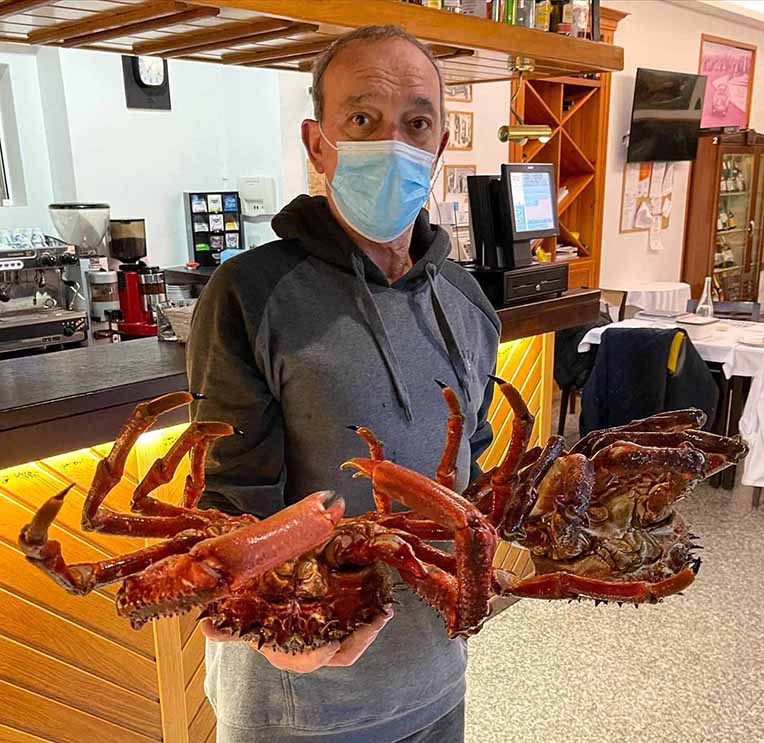 Luis Alberto from the Restaurante Búzios
Praia Grande
At the end of the beach, you will find the "Bar do Fundo". Pleasant atmosphere and a superb terrace to savour dishes such as the lobster risotto, tuna steak and the octopus. Acceptable prices though not cheap.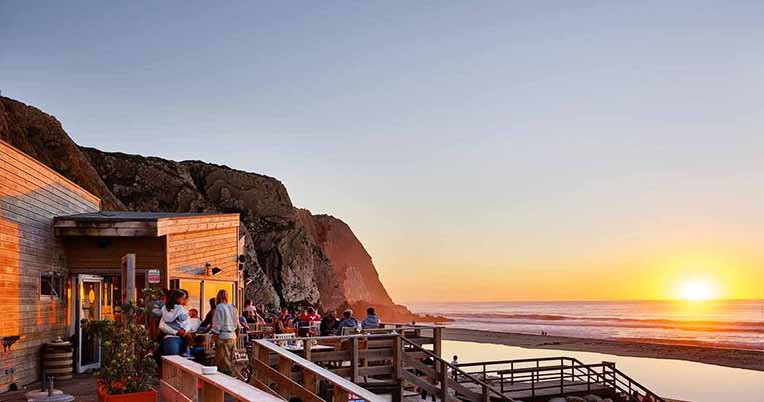 Bar do Fundo
Almoçageme
They really know how to grill a fish from the sea just in front at the "Adraga". The restaurant is at the end of the valley just above the beach. Expensive.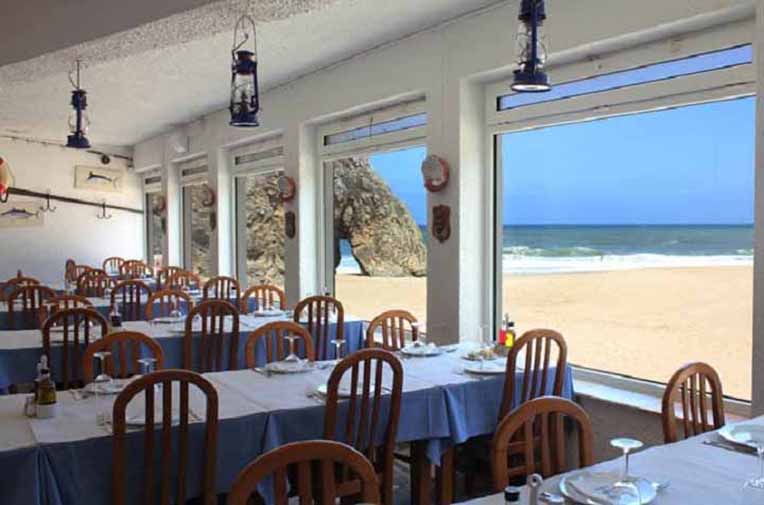 Adraga
The Cooperative ALDEA in Janes is real heaven for health foodies, vegetarians and vegans. It is not just the cosy feel, tasteful decoration and atmosphere that convinces, but also the quality of the dishes and produce on sale.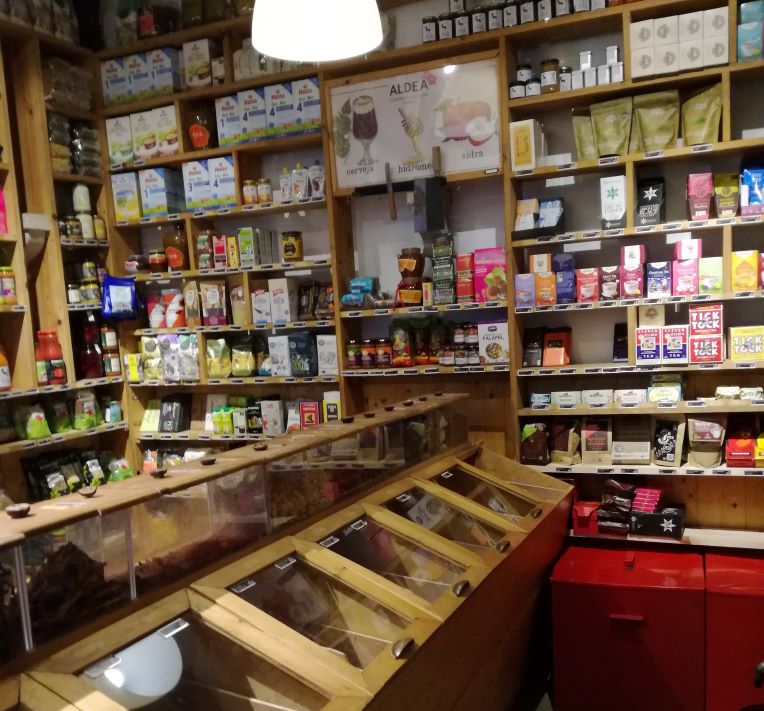 Coop ALDEA
The best "tosta mista", a typical Portuguese ham and cheese toast, you can get anywhere near here is in the "Moinho Verde", a simple little café on the main square in Almoçageme.
Just next to the week-end market of Almoçageme on the junction to Praia Grande on the main road from Cabo da Roca to Colares is a simple food truck with great pizza at affordable prices called "Gigi's"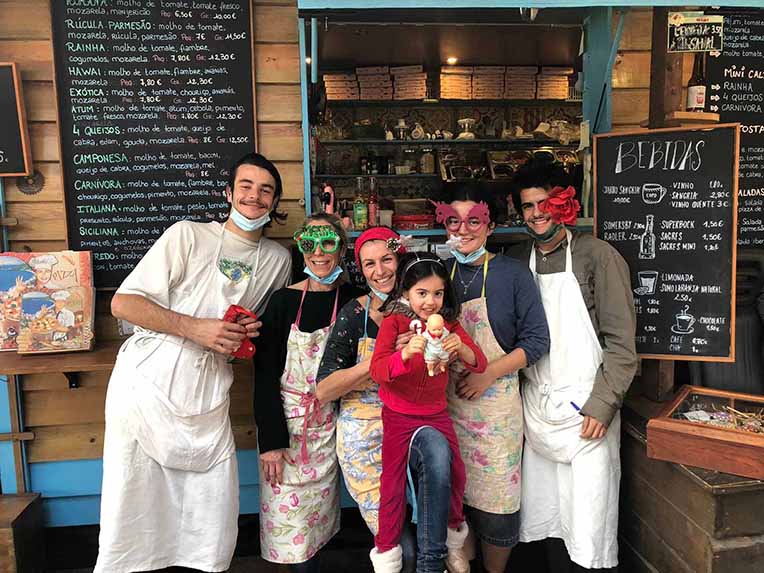 Gigi's pizza food truck
The beach bars
The "31 terrace and lounge"
The "31" is the newest spot in Praia das Maças. Terrace open to the beach and ocean. During winter months enjoy live concerts or the dance floor in the evenings.
1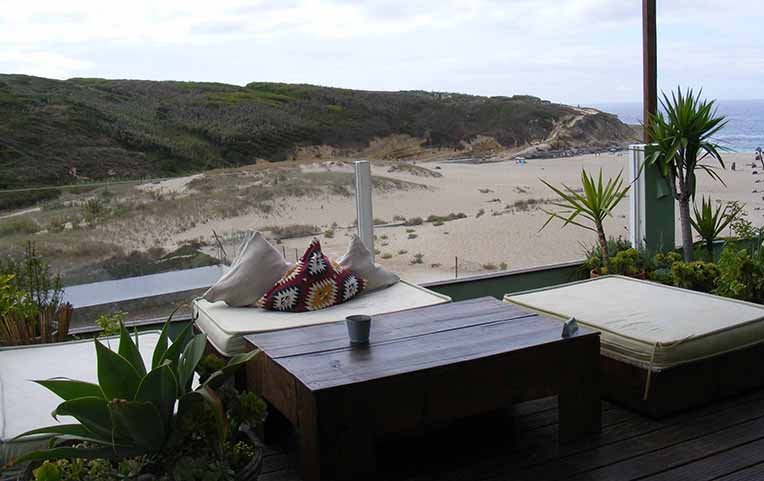 31 terrace and lounge
The "Quiosque" is a former newspaper stand turned into a bar. Goof atmosphere, drinks and finger food with a terrace to watch the sun go down over the ocean.
The "Aldeia da Praia" a former summer camp for children has turned into a hip spot with lots of fine places to choose from: Souldough Pizza with its delicious selection of vegetarian Napolitanian sourdough pizza, baked on a sizzling hot stone oven, breakfast or brunch at the Nomads or a burger with hand-cut fries at the Burgeria Aldeia to the Matsu wine bar & sushi or a drink at the Hops & Drops sering artisan brewed beer.
Where to stay in Colares, Sintra
Imagine viajar ao longo de uma linda estrada rural e descobrir um velho moinho de água, escondido num vale encantado. Podia ser a Azenha do Corvo, composto de duas casinhas cuidadosamente restauradas e decoradas com bom gosto, no meio de bosques intactos de carvalhos a azinhos, um jardim encantador, pátios ensoleirados, uma linda piscina e um terraço com o luxo da paz e do sossego.É ideal para um ou dois casais que escolhem viajar juntos, pois as casinhas estão separadas e têm áreas externas separadas. Somente a piscina serve a ambos.Azenha do século XVII (o moinho de água). A mais bela casa de campo, em estilo português, com um quarto romântico com lareira no rés-do-chão. Um pequeno riacho do lado de fora da janela, que se pode ouvir a fluir serenamente. Também vem com uma aconchegante sala de estar no sótão e uma linda casa de banho no piso inferior. O Azenha tem uma pequena cozinha para dois no pátio.A outra casa, conhecida como "casa do burro", vem com um quarto arejado, área de vestir, casa de banho e uma bonita sala de estar. Do outro lado do pátio, há uma cozinha grande com lareira, churrasqueira, poltronas confortáveis e uma maravilhosa área de refeições ao ar livre com vista para a floresta. Ótima para comer nos meses mais quentes do ano.Aconselhamos ter um carro. Qualquer seja a sua escolha, devido ao layout das duas casas, o local é mais propício para uma escapadela romântica do que para uma família com filhos pequenos. Nota: Uma cesta de frutas, flores frescas e água engarrafada serão fornecidas à chegada. O frigorífico também será abastecido para o pequeno almoço (por favor, informe se você tiver pedidos especiais). Há limpeza diária - exceto aos domingos.

Just 30km from Portugal's capital Lisbon and super close to the Mogoito beach of Azenhas do Mar, you can choose between 5 dream villas that offer breathtaking sea views and a unique setting. The villas feature balconies and terraces with panoramic views and provide all the amenities you need. Each unit offers a living room, fireplace, a fully equipped kitchen, free WiFi, private bathroom, flat-screen TV with streaming services, air conditioning and a seating area. Come here to have an unforgettable stay combining modern design with a traditional atmosphere, all thanks to the unique architecture as well as the special renovation techniques used by the owners. The Azenhas do Mar Villas are located in the center of the village with direct access and views of the sea. In addition, the accommodation places great emphasis on sustainability and environmentally friendly techniques. Thanks to its perfect location, the property provides easy access to several hiking and cycling paths, as well as windsurfing, snorkeling and diving areas. Furthermore, the apartment offers water sports facilities and golf courses. Sintra National Palace is 12 km from Azenhas do Mar Surf Villas, while Quinta da Regaleira is 13 km away. The nearest airports are in Cascais or Lisbon, 30 km from the accommodation.

Chalet o Amorzinho is a stunning property located in Azenhas do Mar. The location is ideal, being just 31km from Lisbon and 13km from the UNESCO world heritage site of Sintra. The coastal resort town of Cascias is also nearby (15km). Guests staying here can enjoy the 11 spacious rooms with private bathrooms and free toiletries. The rooms are cleaned daily and room service is available (certain hours only). A continental breakfast is served daily at the property with the choice to have it in your bedroom too. The garden is another highlight of this property, especially with its swimming pool with Jacuzzi offering stunning panoramic views over the Atlantic Ocean. The property itself is surrounded by nature, offering the perfect location to fully relax and recharge, whilst still being within easy reach of Portugal's capital, Lisbon. Azenhas do mar is a secluded hidden gem, with a lovely beach and some fantastic seafood restaurants and bars nearby. There are plenty of beaches within close proximity of the property and visitors can also enjoy plenty of hiking and cycling trails, especially as bikes are available to rent upon request. There is free parking available onsite and the nearest airport is Humberto Delgado (Lisbon) which is only 30km away. Guests are advised to travel with their own car in order to make the most of the surrounding area. Please be aware: the rooms at Chalet o Amorzinho vary in style and decoration. Please feel free to get in touch with us about more personalized room selection.

DREAM GUINCHOUnique staySonhos, emoções, mar, serra e estrelas.DREAM GUINCHOFeito de experiências e vivências.Retratadas nos livros e imagens presentes em todos os espaços.OS QUARTOSPensados para estar e sentir. Inspirados por livros que nos tocam.Nada demais, mas tudo o que é preciso para o tempo correr devagar.

This luxurious designed Villa is set on the green mountains, with an overwhelming panoramic view of the deep blue Atlantic Ocean. Surrounded by pure nature and with an overwhelming view on the Gunicho beach, does this Villa invite you to the perfect stay of tranquility, nature and space for family and friends.It is the best place to enjoy privacy but also a starting point to explore the historic city of Lisbon, the nature and castles of Sintra, and the lively Cascais.The Villa offers 5 double bedrooms, one separate apartment and in total 5 bathrooms, offering accommodation for up to 17 guests. Two spacious living areas with a dining area and a fully equipped kitchen ensure that you can cook and enjoy your meals with your family and friends while overlooking the great Ocean. A fireplace and cozy sofa invite to relax. And the entertainment room delights with a vintage jukebox, pool billiard table, another fireplace, computer with video projector and large sofa lounge for movie nights. There is a Sonos speaker system available in all common areas.The Villa is settled within a large exclusive paradise. Offering a large pool with panoramic view for refreshing hours, a jacuzzi for relaxation and the immense terrace with comfortable sunbeds. For all outdoor lovers, there is plenty of space and coastal beauty with several hideaways and breathtaking views. There is a meditation deck poking its view into the blue, a big wooden yoga deck built into the cliffs with stunning views of rock and ocean, as well as a private 10m, climbing rock with 10 prepped routes of different difficulty levels, including a beginners / kids climbing wall. Stepping into the wild following a small hidden trail you can even get to a sort of private hidden secret beach. The Villa can be booked with several services such as catering, daily cleaning, outdoor tours and sport activities. Just contact us for any additional services.

This unique OUTPOST Casa das Arribas sits above the cliffs of the deep blue Atlantic Ocean and welcomes its guests with a great combination of modern design, rooms full of light, wooden decoration and panoramic views. The house offers 7 different apartments that all ensure the privacy of each independent unit and have been decorated in its own style. The apartments have 1 or 2 double bedrooms, offering space for 2-4 guests. Fully equipped kitchen, modern bathroom with excellent bath amenities and spacious open living areas ensure luxury comfort during the holiday stay. The beautiful garden surrounds the OUTPOST with panoramic views over the Atlantic Ocean. A tennis court and the pool with its sun beds are available for sporty or relaxing hours.There are two more flats: Casitas del Océano are not in the main house, but 200 metres away. They are available in 1 and 2 bedroom versions. They all share a large terrace on the cliff facing the sea.The village Azenhas do Mar is close by and you can walk along the ocean. It is beautiful with its houses hanging on the cliff and has a good choice of restaurants, as well as an ocean pool with a very popular bar.