Wanderful Madeira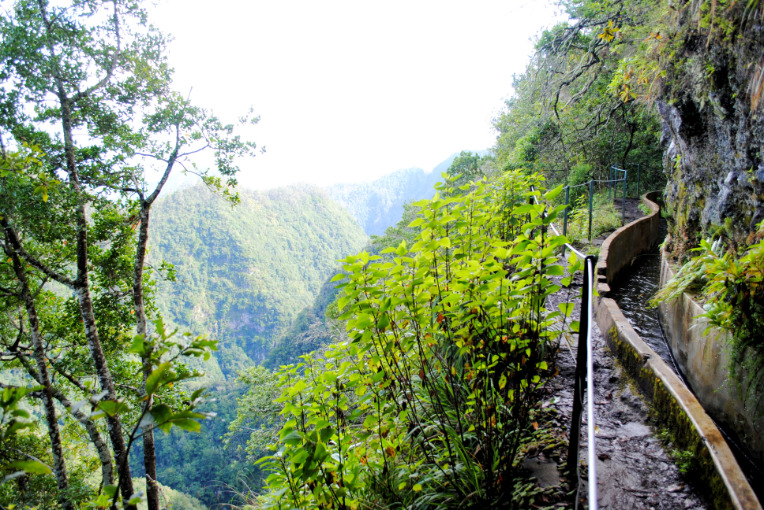 "Madeira" – means simply wood. And you can find lots of wood on the island, normally in form of many, many trees. I wanted to dive into the wonderfully natural world of this island, so, took my hiking shoes and searched for the best hiking tracks on Madeira, some typical ones and some lesser known. And my discoveries are definitely worth reading and trying out.
Madeira: summer, sun, sunshine? Maybe every other day of the year, but not the one week in October that I have been here. As the human skin is waterproof and I am not, against all rumours, made of sugar, it was no excuse to not go and try one track after the other. Madeira is definitely worth being called the pearl of Portugal. Even with pouring rain, I couldn't stop gasping from amazement: tropical plants decorate the whole island together with loads of flowers, trees and sugar cane fields.
It is recommendable to rent a car beforehand, but as my drivers licence decided not to go on holiday with me, I had some problems getting to the more hidden places of Madeira. All of the busses left the capital Funchal at about 11 o'clock, what I think of as very late. My first excursion should go to Rabaçal. To get there, I had to take the bus and then a taxi but the trip was absolutely worth it: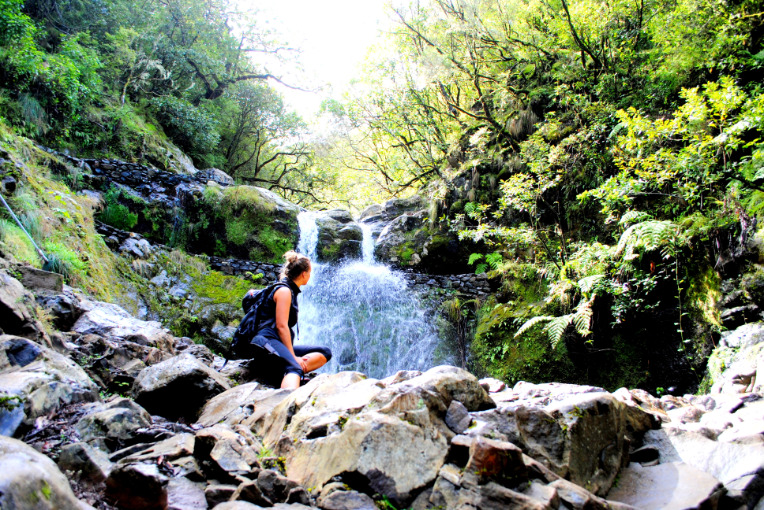 Levada 25 Fontes – Waterfalls meet Levadas
The hiking track to the 25 waterfalls is the right path for all the ones who love nature and don't want to spend the whole day in the mountains. This beautiful pathway enchants you with one waterfall after the other, breathtaking views and small, winding paths that stretch over three kilometres.
During the day, the path is often crowded with tourists, so I recommend to start your track earlier to experience the unspoilt nature on your own. Or, you just come during the only rain week in the whole year -as I did-, then you will also be able to sleep as long as you want and still not meet the odd explorer.
Just on a side note: the starting point is on a hill, where some cows graze. They are known for their excellent meat, but are also very trusting and like a little pet trying to sneak into your selfie.
Ribeiro Frio and the Balcões
The next day, the day, when the sun decided to come out for one time, I used to make a six hours expedition. Away from the tourist crowds, I tested the hiking track in Ribeiro Frio. Here, you walk alongside Levadas: over waterfalls and rivers, through caves and forest. A true adventure and my personal highlight on Madeira! Levadas are artificially made streams that bring the rainwater from the regions rich of rain into the drier regions. The paths follow the slowly flowing streams and are therefore pleasantly flat.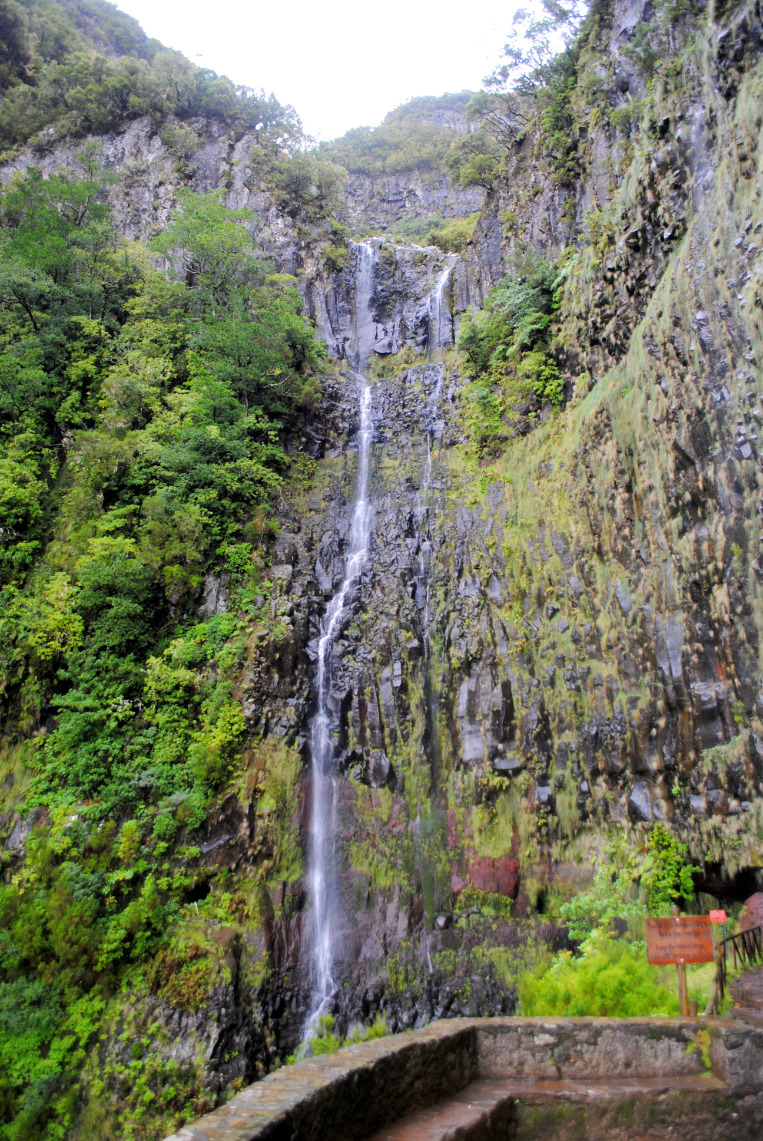 I took the 10-o'clock-bus and got off at the Balcões. This is a huge terrace, from where you have an unforgettable view: all around you rise high mountains and to the right, you can see the ocean.
Riberio Frio convinced me with its silence. Only few times I met other hikers. The rest of the time, I was completely alone in the midst of a stunning and unique nature. Here, you have to follow the Levada to not wander around and be lost in the woods for some hours. This track is nothing for couch potatoes. When the Levada crosses a waterfall, you also have to do so -luckily, I was already used to being wet from the last days-, if it passes through a tunnel, you also have to do so. You will truly experience action at its best. And when I arrived at a small village, without provisions, a basket with apples was awaiting me at the entrance. The apple that I ate, was probably the most delicious and sweetest one in whole Portugal.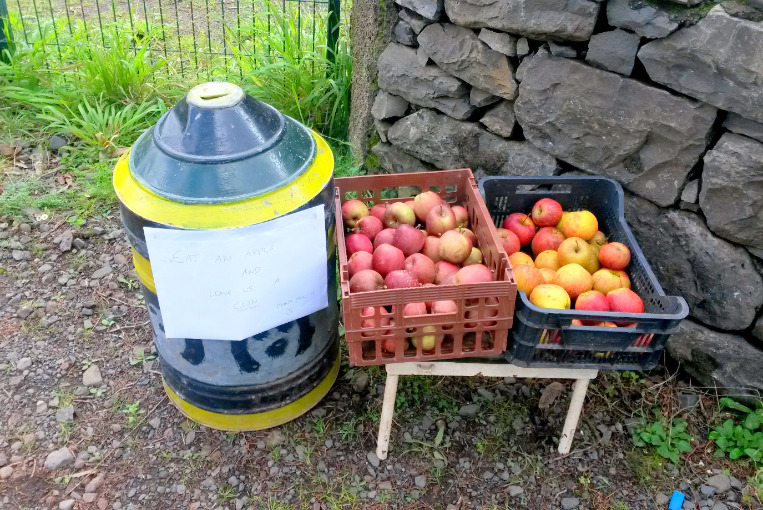 Now, I will add some new and more dry experiences from this January. With a group of friends, I went on a discovery tour on Madeira. Luckily, we had rented a car beforehand, which made everything so much easier and which brought us more or less reliable to all the places. During our 10 days on the island, we had almost only sunshine and up to 28 degrees.
Pico Ruivo
The most known hiking track on Madeira is probably also the one that I would say not to miss by any chance! It was the highest point on my Must-See list and directly after checking the weather, it was scheduled for the next day. The hike starts at the second highest mountain of Madeira, the 1818 metre high Pico do Arieiro, and leads to the highest mountain of Madeira and Portugal, the 1862 metres high Pico Ruivo. One way, it takes seven kilometres, but as we parked the car at one side, we also had to take the same way back. After a nerve-wrecking drive over narrow and winding roads, we arrived at the peak of Pico do Arieiro and, packed with rain jacket, hat, scarf, sandwiches, bananas and cameras, we started our day tour. When we started, we were still caught in the clouds and it was freezing cold up in the mountains. The wind here blows unslowed, directly from the Atlantic ocean and you feel that very clearly. We were happy about our good preparation and the many clothes.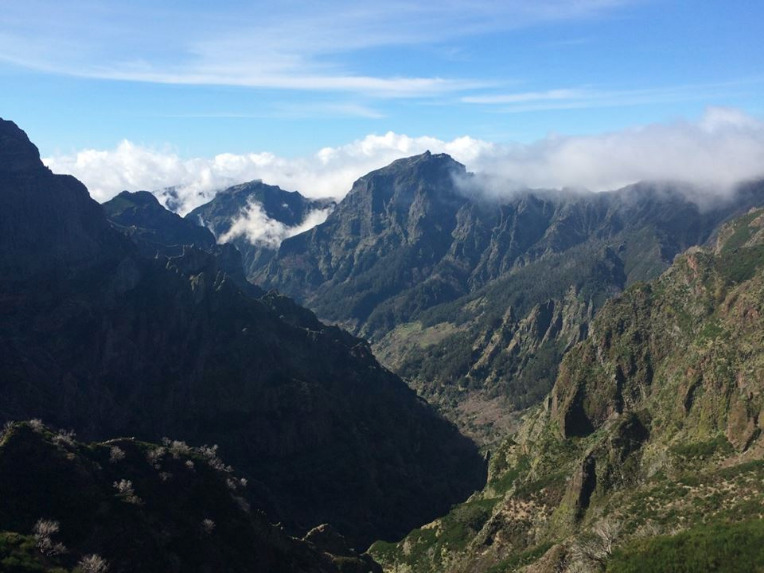 The hiking track is very narrow and at many places secured with ropes as it goes deep down. If you are afraid of heights, you might get dizzy at many points. Normally, there are two different ways, so that you can go by one and come back by the other one, but one of them was closed. Probably, is has broken down partly, which is not uncommon. We also had to cross five tunnels on our way and that is why it is recommended to bring flashlights. Without flashlights, you run risk of hitting your head at the uneven cave ceiling. From experience I can say that a flashlight from your cellphone is enough, but you should have sufficient battery…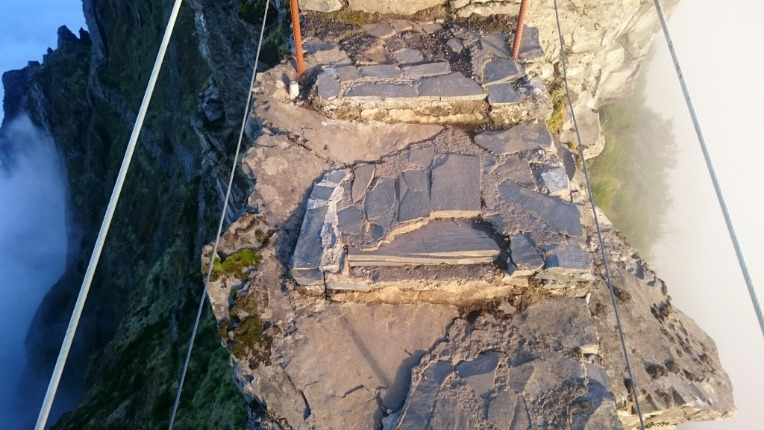 The path was very beautiful. We had a lot of great views to different directions: over the mountains, the green valleys and many different kinds of vegetation. We saw some endemic birds and a few times we met other hikers. When we were protected from the wind by the mountainside, it even got really warm with the sun and we continued hiking in t-shirts. On the way, we always filled up our water bottles in the rivers and waterfalls to refresh ourselves. The path is mostly natural, sometimes beaten into the rock and one time, they had added some metal stairs to make the path more secure. Shortly before arriving to the peak, we crossed a strange looking forest. The trees looked like they had been smoked and seemed dead - very mystic atmosphere. Later, we got to know that they were ill, caused by some not endemic insects, and dying.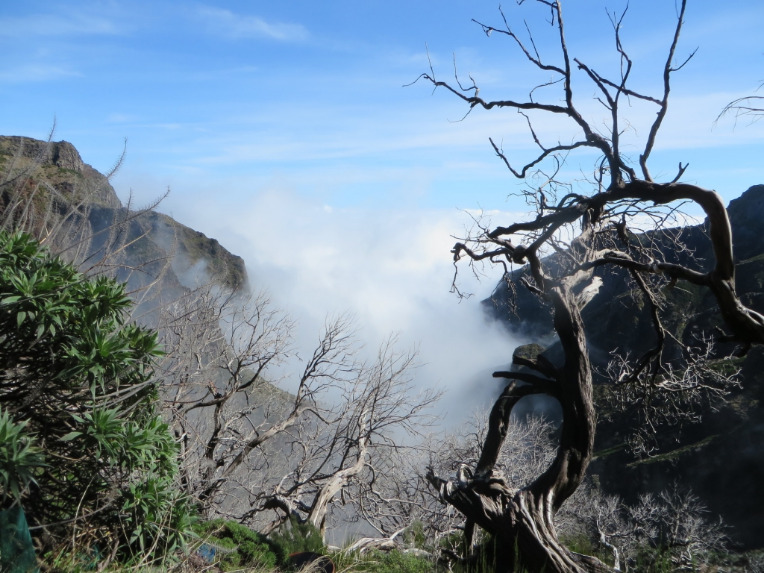 We arrived at the peak, where suddenly many people gathered. They probably came from one of the other three walking tracks that meet here. The view was just breathtaking: The green forests, the clouds between the mountain peaks and the beautiful birds! We made a pause, ate our snacks and watched the coloured birds eating the crumbs.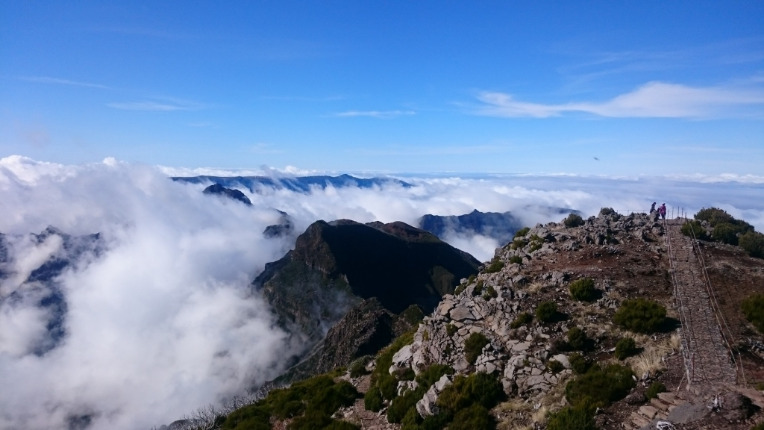 Then we returned over the same way that we had come from. Shortly before the end, the sun was going down and coloured the clouds in golden. It was just spectacular! The perfect ending of a perfect day.
The whole track took us seven hours, 15 kilometres and over 900 metres in height to finish the hiking. We were so tired and just fell into bed, when we came home. But, it truly had been an amazing day.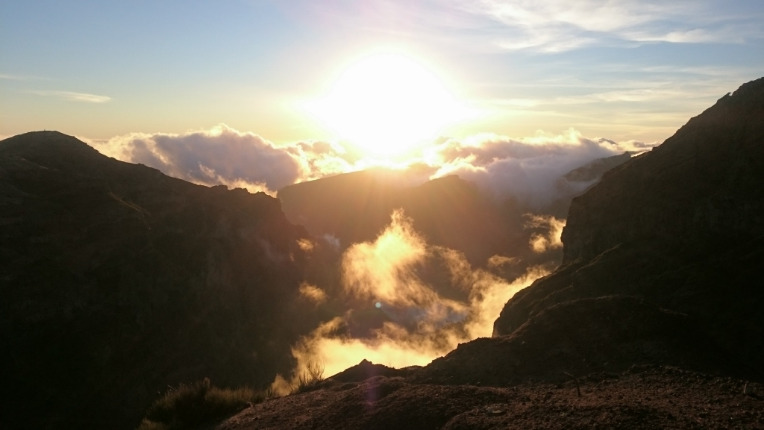 There are also some other variations of this track. For example, you can enlarge it and continue hiking to Encumeada or choose another route. There is the short two kilometre hike from the parking lot, for the less hiking enthusiasts, or the even more demanding track from Ilha. There, you start at a height of 400 metres and then mount the peak in 8,7 kilometres from the seaside. On this way, we didn't meet any soul, which could be because it is lesser known, or just no one else is crazy enough to do it. Except of a cat that we met in the middle of the forest and who followed us more than one hour meowing all the time. Probably it was happy about having found some companions as no one else passed by here. We thought it was pretty funny to go hiking with a complete srtanger cat, except of the few times that -typical cat- it almost made us fall. The path leads up in endless stairs and then turns into a unstable, rocky way. Especially beautiful is the part, where you hike through the Laurisilva forest.
Levada do Rei – Laurisilva forest
The Laurisilva forest, which is part of the UNESCO world heritage, can also be discovered on the kings levada (Levada do Rei). This is a wonderful way through the deep green forest with lots of fern trees and lush vegetation. One time, the way passed under a waterfall and we all put on our hoods to not get too wet. Indeed, it was very cold here, as the humidity was high and the sun didn't reach through the leaves. The way and the Levada ended at a small stream, which was the origin of the Levada. In contrast to the other hikes, this one was very relaxed: no incline, soft grounds, pleasant and natural colours as well as a very pleasant silence.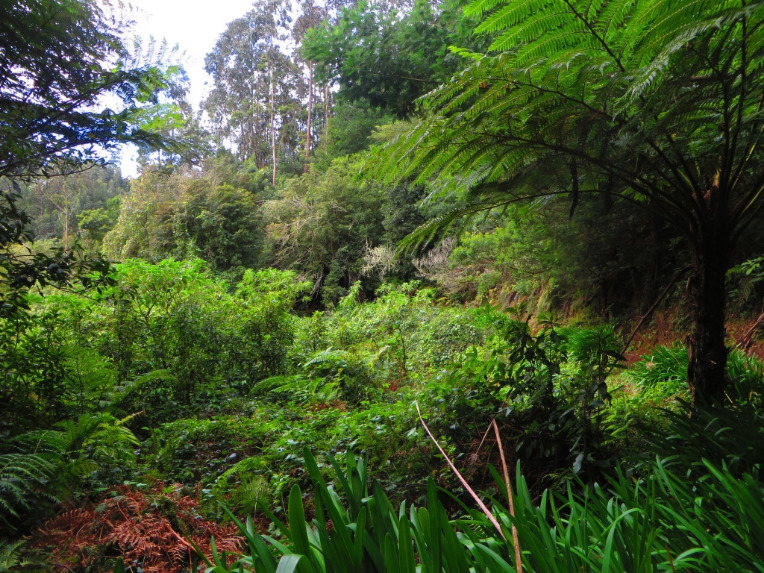 Sao Lourenço
To get some change to the days before, we planned a trip to the cape of Sao Lourenço. This is the most eastern point of Madeira. It seems like a complete different place: here, instead of green and lush vegetation, high mountains, lots of rivers and waterfalls, you will find short and hard grass, which is more yellow than green, brown ground, soft hills, cliffs, lava stone and red rocks. Because of the missing water and shadow, the seemingly easy track got more exhausting than we thought. From our experiences of the last days, we had only brought a few water bottles hoping we could refill it at a waterfall or river. So, we had to ration our water. But the landscape made it all worth the suffering. It was different than the rest of the island, but very beautiful as well. From the point at the end of the cape, you could even see the island Porto Santo. At the cape, we made a pause and then returned with a small detour down to the sea back to our car. The whole track took us three hours and eight kilometres in total.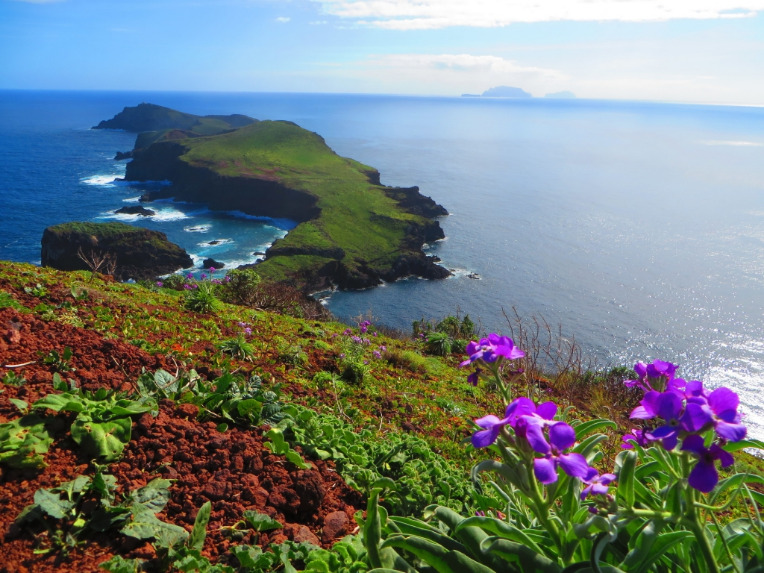 Madeira is a true paradise for hikers and outdoor lovers. There are so many different landscapes to discover: from volcanic caves over high, green mountains with deep gorges and valleys, to black or golden beaches, countless hiking tracks for every level, many interesting cities, where you can visit touristic attractions or just try local specialities. I could tell you so much more about this dream island, but I will keep it for another time.
If you now want to experience the beauty of this Portuguese island of your own, we have a lot of lovely accommodations on Madeira and Porto Santo.
Este lugar secreto - O Hotel Átrio - tem vista para uma das mais belas ilhas da Europa, Madeira. O pequeno hotel de gerência familiar está situado no ensoleirado lado sul desta ilha verde e recebe os seus hóspedes com vistas panorâmicas sobre o mar azul profundo e as montanhas verdes. Está rodeado por um deslumbrante jardim de 10.000m2 e combina a tradição com elegância contemporânea. Este boutique hotel oferece 22 quartos exclusivos com camas de casal confortáveis, casas de banho modernas e terraços com vistas impressionantes. A antiga quinta oferece um restaurante aconchegante, um bar com lareira e um terraço ensoleirado. Uma piscina aquecida, uma sauna e massagens permitem o máximo relaxamento. Este lugar escondido é o ponto de partida perfeito para explorar todas as atividades ligadas à natureza, como caminhadas, observação de baleias, observação de pássaros, mergulho, mountain bike, canyoning e muito mais.

Procura um lugar calmo e sustentável e eco friendly, onde a natureza se adapta à simplicidade? Então, o Calhau Grande é o lugar perfeito onde ficar. Os 8 chalés independentes foram construídos com uma combinação única de beleza natural, conforto e privacidade. Eles estão instalados em um lindo jardim paradisíaco, cada um com seu próprio terraço, com vista para o azul profundo do Oceano Atlântico e montanhas verdes. Este alojamento familiar acolhe os seus hóspedes com a típica hospitalidade calorosa da Madeira. Existem diferentes chalés, oferecendo um estúdio para 2 pessoas ou uma espaçosa casa de campo com dois níveis para até 6 pessoas. Calhau Grande está no sitio perfeito para explorar e desfrutar da ilha da Madeira.

Localizado em Ponta do Pargo, no oeste da ilha da Madeira, esta jóia escondida oferece seis casas rurais encantadoras. Casas da Levada surpreende com uma propriedade de 5000 metros quadrados, que possui uma impressionante piscina infinita com vistas deslumbrantes para o mar e abriga casas construídas com pedra. Você ficará hospedado em casas de férias calorosamente decoradas, onde uma lareira fará você se sentir ainda mais em casa. O design combina móveis tradicionais e comodidades modernas.A sustentabilidade é altamente valorizada em Casas da Levada. Eles cultivam seu próprio jardim orgânico e até possuem alguns animais de fazenda. A água é aquecida por energia solar e eles utilizam produtos de limpeza biodegradáveis. Na sua chegada, os proprietários fornecerão suprimentos frescos para o café da manhã, para que você possa desfrutar da refeição mais importante do dia a qualquer momento que desejar.Durante a sua estadia em Casas da Levada, você terá muitas oportunidades para explorar a exuberante natureza montanhosa da ilha, observar a vida selvagem e desfrutar do Oceano Atlântico e da deliciosa comida da ilha. É importante notar que, na sua chegada, você encontrará vários produtos de boas-vindas, como frutas, café, sal, açúcar, pão e muito mais. O que estiver faltando poderá ser comprado no pequeno supermercado dentro da propriedade.

Este Local Secreto em uma das ilhas mais belas da Europa recebe seus hóspedes com privacidade, conforto de luxo e vistas panorâmicas sobre o oceano azul profundo. O resort oferece 9 quartos com vista para o mar e três luxuosas vilas. Todos estão situados dentro do típico jardim verde e cada um com sua própria área privativa. A combinação de luxo, design e entorno excepcional torna este lugar tão único. O resort aceita apenas adultos. Cada quarto com vista para o mar oferece uma confortável cama de casal e um banheiro moderno para um máximo de dois hóspedes. Cada vila oferece um confortável quarto para um máximo de 2 hóspedes, um banheiro moderno e uma área de estar aberta. Um delicioso café da manhã é servido e está incluído em todas as tarifas. Venha aqui e respire a serenidade em um ambiente de conforto absoluto e tranquilidade, onde a atenção aos detalhes faz toda a diferença.A atmosfera é complementada por um bar acolhedor, perfeito para desfrutar de momentos de convívio. A apenas 1,8 km da Praia da Ponta do Sol, a propriedade é um convite ao deleite à beira-mar.Com a conveniência do acesso Wi-Fi gratuito em todas as suas instalações, este resort antialérgico oferece um toque de luxo adicional com uma relaxante banheira de hidromassagem, ideal para momentos de puro relaxamento.Os quartos deste refúgio foram cuidadosamente projetados, cada um contando uma história de conforto e beleza. Com roupeiros espaçosos, televisões de ecrã plano e casas de banho privativas, cada detalhe foi pensado para oferecer uma estadia memorável. A partir das varandas com vista para o mar, os hóspedes podem contemplar a imensidão azul que se estende até ao horizonte. Cofres em todas as unidades proporcionam um toque extra de segurança e tranquilidade.O Escarpa - The Madeira Hideaway é também um local onde os sabores se encontram. Um pequeno-almoço à carta, completo com opções inglês/irlandês ou italiano, aguarda os hóspedes, preparando-os para um dia cheio de descobertas. O restaurante no local celebra a diversidade da culinária, apresentando pratos mediterrânicos, portugueses e mariscos frescos. Além disso, há opções vegetarianas, sem lactose e vegan, para satisfazer todos os gostos e necessidades.Neste refúgio de calma e sofisticação, o Escarpa - The Madeira Hideaway convida todos a vivenciarem momentos de pura serenidade e requinte, onde cada detalhe contribui para uma estadia verdadeiramente memorável.

The location of the Estalagem da Ponta do Sol is amazing. Basically, it is set on a high ravine on the south coast of Madeira. This provides guests with fantastic views of the blue ocean and plenty of sunshine and light. Talking of light, this area, some 25 minutes drive from the capital Funchal, is said to have the best climate and more hours of sunshine than any other part of the island. Hence the name of the village from which the hotel takes its name - "Ponta do Sol" Point of the Sun.The village is 500 years old and sleepy. There's not that much to see there frankly, despite its picturesque setting. In many ways that's how Madeira has been traditionally seen – perhaps a place for the older, more conservative, traveller. The Estalagem da Ponta do Sol, on the other hand, is a different ball game. It's trendy, minimalistic, modern and utterly magical. A really well-designed hotel. A young hotel with excellent facilities and well thought out design. There is even attention to detail in the pool. Its infinity style provides an illusion of blending and melting into the ocean. Still, all this is nothing without human warmth and at that point, the Ponta do Sol can impress as well. The staff are friendly and professional. They can even pick you up at the airport if needed.Despite the getaway feel, there are interesting activities in and around the hotel like a sailboat trip which the Ponta do Sol can help to organize. All in all a great combination of two different types of Madeira, one genteel and slow-moving the other hip, up to date and beautifully styled. The natural attributes, the sun and the sea will further ensure a super relaxing stay.

É com muito prazer que recebemos a sua visita e agradecemos a sua preferência pela Fajã dos Padres. A Fajã dos Padres é uma propriedade agrícola em modo de produção biológico localizada à beira-mar na costa sul da Ilha da Madeira. O acesso à propriedade é feito exclusivamente por um elevador panorâmico que desce um enorme penhasco de cerca de 250 metros (188 passadas a partir do parque de estacionamento até o elevador e 181 desde o elevador até ao caminho na Fajã). Durante os últimos anos, oito pequenas Casas (Villas) foram reconstruídas a partir de antigas habitações. Um antigo palheiro localizado no centro da propriedade também foi reconstruído, transformando-se no Bungalow.

A Casa Papagaio é um alojamento nos arredores do Funchal, mas pode aceder à cidade em poucos minutos de carro e tem a comodidade de poder estacionar à sua frente.A casa principal tem enormes janelas com vista para o Atlântico, oferecendo vistas sobre a capital e o imenso mar.O interior da casa está decorado com peças de arte e mobiliário portugueses. Destacam-se os objectos artísticos e os bordados madeirenses, bem como a cutelaria de Portugal Continental. Algumas reproduções de Van Gogh e outros impressionistas conferem à Casa Papagaio um colorido e um carácter agradáveis. Depois, há o jardim, com uma abundante miscelânea de plantas e flores semitropicais. Alguns degraus abaixo nos encontramos em uma grande piscina à disposição dos hóspedes – um cantinho maravilhoso para tomar sol e brindar. Outra particularidade da quinta é a levada (caminho artesanal) que atravessa a propriedade e por onde podemos caminhar até ao Funchal ou Câmara de Lobos.O alojamento tem 7 quartos, todos com uma boa vista mar, cheios de luz e aromas vindos do jardim. Existem desde duplos, estúdios e apartamentos (estes dois últimos com cozinha), com decoração simples e contemporânea e a maioria aberta para o exterior com espreguiçadeiras, mesa e cadeiras.Filomena, a proprietária, é uma amante de cães e gatos – dóceis e bem comportados – fervilhando livremente no jardim. Observe que para quem tem alergia a animais de estimação pode ser incômodo.Em troca, os hóspedes podem trazer seus próprios animais de estimação.