Embrace your Inner Child - Stay in a Tree House!
Let's be honest: we all dreamed of having our own tree house as a child, as a retreat for fantastic adventures out of sight of our parents, and as a private playground for our beloved hobbies. Climbing around in the treetops, watching over the whole garden from above, observing the chirping birds and other animals - that's what freedom felt like. Up here we could be whoever we wanted: a brave pirate on the high seas, an adventurous astronaut in a spaceship, or a rich prince in the treasure chamber.
The good news is it's never too late to make your dreams come true. Nowadays, there are numerous tree house hotels where you can indulge in childhood memories without giving up your usual comfort. How about, for example, a shelter in the treetops of Spain with a Jacuzzi at airy heights? Or a tree house suite in northern Germany with underfloor heating and a box spring bed?
The advantage of a tree house, as the name suggests, is that they are usually located right in the forest. This makes them perfect for leaving the hustle and bustle of the urban jungle behind and feeling at one with nature. Far away from noisy neighbours or animation at the swimming pool - more "Secret Place" is hardly possible.
It's time to finally make your dreams come true and experience something new! Our Secretplaces Team has gone on a search for you and picked out the most beautiful tree house hotels in Europe.
1 Cabañitas del Bosque - Cabanas de Broña (Galicia, Spain)
A tranquil treehouse resort in Galicia's forests with four units 6 metres above the ground, hidden among a variety of native trees. The houses sleep up to four people and consist of one or two bedrooms, a living room, kitchen, and bathroom - ideal for a romantic getaway or family time together. For well-deserved luxury, a jacuzzi awaits you in all cabins, either in the bathroom or on the outdoor terrace. The most beautiful thing is the sea view that you can enjoy from the roof of some of the tree houses, because the Cabanas de Broña are only 15 kilometres away from the Spanish Atlantic coast. You won't get bored here, because there are rivers for fishing, beautiful beaches for swimming or tanning and mountains for hiking and exploring. The nearest beach is only a 10-minute walk away.
By the way: One of the tree houses is fully accessible! You are also welcome to bring your four-legged best friend.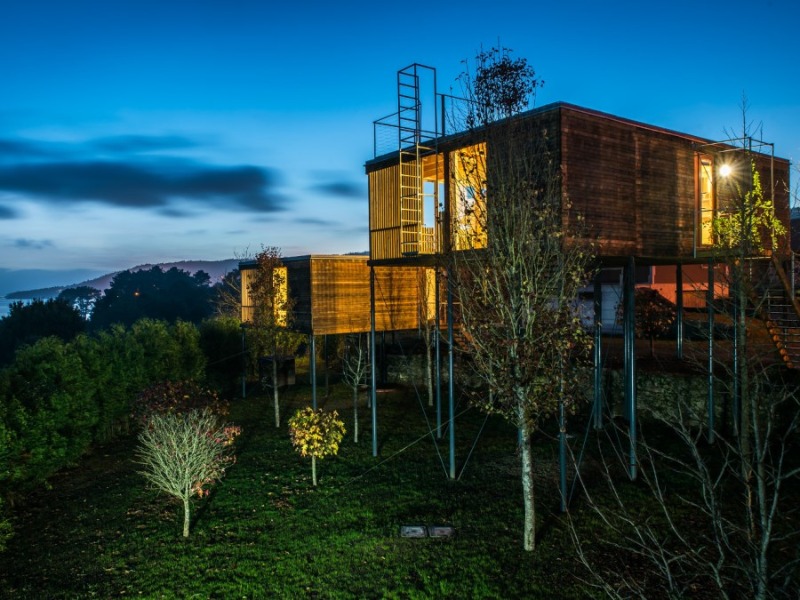 2 Conversas de Alpendre (Algarve, Portugal)
Although the Conversas de Alpendre in Vila Nova de Cacela is a "normal" hotel in the Portuguese Algarve, a very special jewel is hidden in its garden.
Perched 6.5 metres above the ground at the top of a carob tree, made entirely of wood and built by hand, the tree house is the hotel's most special and exclusive room. It offers space for two people. With breathtaking views of the sea and the countryside, a private terrace, a king-size shower with the sea in the background, air-conditioning, mini bar, it meets all the needs for a luxurious stay high in the air.
As the tree house is part of a hotel, you have access to the common room, the library, and the bar. If you want to unwind for a while, you can enjoy the surrounding nature: Breathe in the fresh air, the scents of the fruit trees, the old olive, and carob trees, and relax in the saltwater pool. If you are more in the mood for sporting activities, you can rent bicycles on site for an exploration tour or take a boat trip in the Ria Formosa, one of the seven natural wonders of Portugal.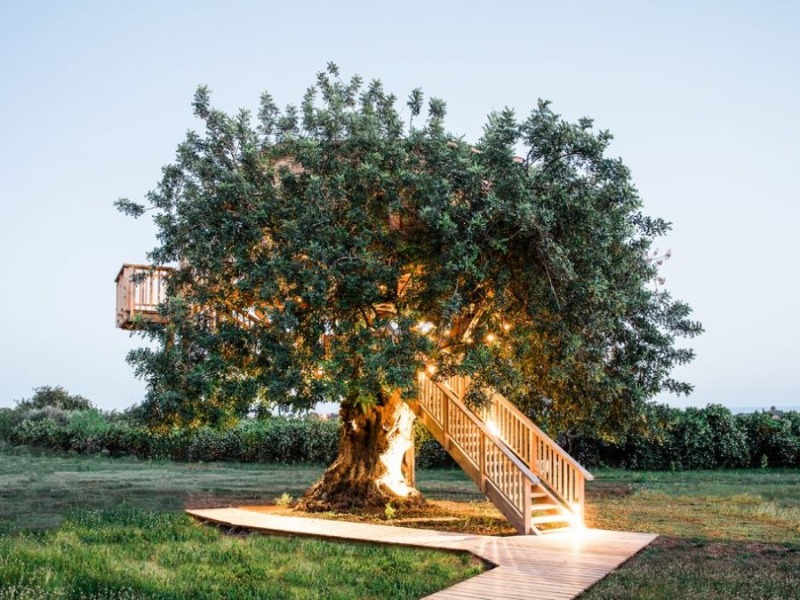 3 Resort Baumgeflüster (Lower Saxony, Germany)
The unique Resort Baumgeflüster was voted one of the top ten treehouse resorts worldwide. The four treehouse suites are located in a forest clearing just three kilometres from a large lake close to the German town of Bad Zwischenahn and offer space for up to four people. Through the panoramic windows, you become part of nature yourself. In the light-flooded and at the same time cosy ambience, a feeling of deceleration sets in immediately. The cabins are made of untreated larch wood, whose scent dampens the heart rate and promotes a night of restful sleep. You will certainly also benefit from the comfortable box spring beds.
You don't even need to descend to have breakfast. Make yourself comfortable on the large outdoor terrace anchored in the trees with steel cables and have breakfast served directly to your tree house in a picnic basket. But also outside your retreat, the unique park landscape with its moor, heath, forest, and meadows offers many opportunities for hiking and cycling tours. The coast is also only about 40 minutes away.
By the way: Thanks to its underfloor heating, the Resort Baumgeflüster is habitable all year round even in cold Germany!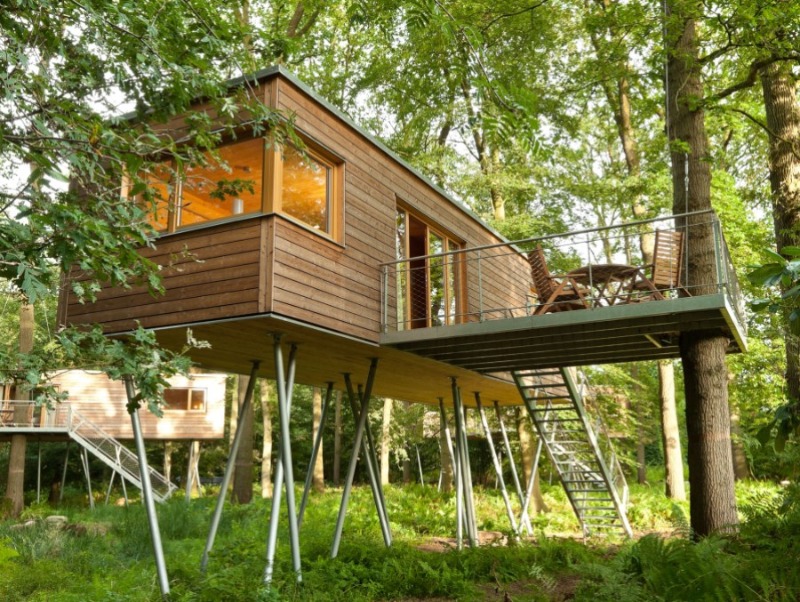 Well, are you curious now? Make your childhood dream come true and book your holiday in a tree house with Secretplaces!
Follow us on Instagram and Pinterest to stay tuned on new accommodations and blogposts like this!
Book with us! Did you know that Secretplaces always offers the same price as the accommodation? Whether you have found a specific place on our site that you want to visit or you need some help and inspiration on your next destination – you can reach us 7 days a week via email or phone. Of course, entirely free.